Explaining Surrogacy to Your Children
With all of the wonderful Children's books that you have in your home library, why not consider adding some of these that help to explain to your children the process of Surrogacy and how they were brought into this world.
Of all the children that ever could be,
You are the one made just for me.
From a child's first uttered "Dada" to his or her first unsteady steps, nothing can adequately convey the joy and awe of watching the birth and growth of a new child. Filled with adorable illustrations and the refrain, "You are the one made just for me," Made for Me is a winning presentation of tender moments that tie a father and his new child together--forever
Wanted: A Journey To Surrogacy
Two parents are doing everything they can to have a child. While they embark on a whimsical journey to build on their family, they dream about their baby, learn that love has no boundaries, and make the amazing discovery: there are many ways to have a baby. As they learn to see with new eyes, they begin the biggest adventure of their lives into the world of surrogacy –where they must rely on perseverance, courage, and hope to rise above the challenges.
The Kangaroo Pouch introduces young children of surrogates to the concept of surrogacy. Narrated by a young kangaroo character, whose mother has decided to help another family in their efforts to have a child, the story gently guides children through the surrogate's decision-making process, the pregnancy, and the resulting baby that is then given back to the biological parents. The book is designed to act not only as a conversation starter for surrogates with their own families; but also, as a "how-to" manual for their children to refer to throughout the process.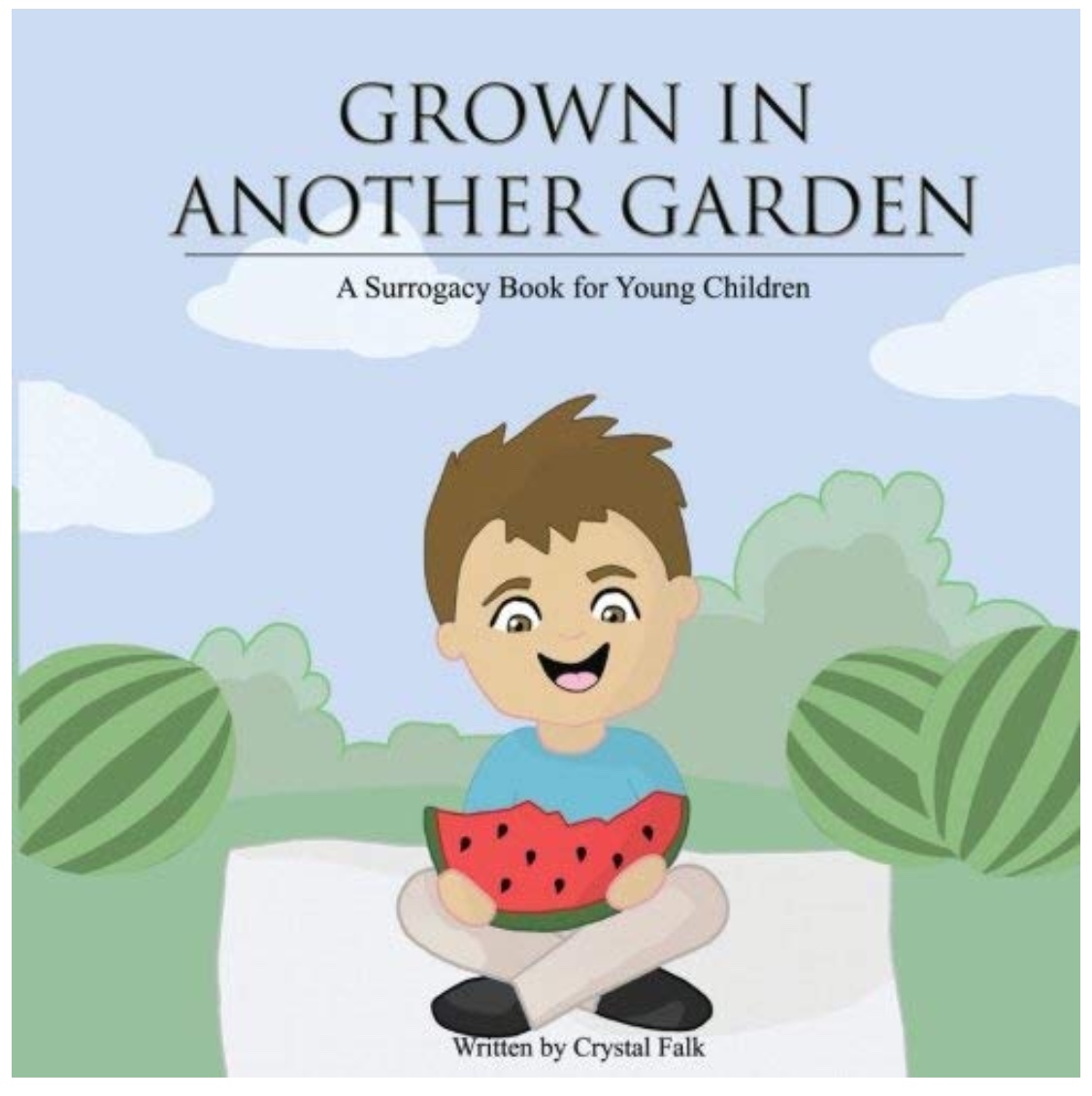 Grown in Another Garden introduces young children, ages 2 years old to 8 years old, to surrogacy. Follow the story of Mikey and his family as he learns about the unique way he was born into a loving family – through the kindness of a surrogate. Join with him discovers that "sometimes the sweetest and most beautiful creations are grown in another garden." Mikey's story helps to explain why some families choose surrogates to help grow their families and why surrogates choose to help other families that way.
The Very Kind Koala is a charming picture book for young children which provides an introduction to surrogacy through the simple story of a koala bear and her husband who needed the help of a very kind koala to carry their baby in her pouch. Parents can begin reading this story to children as young as 3 years of age to begin the dialog about their own helpful surrogate.
Sophia's Broken Crayons is a book for young children, recommended for children ages 2 to 6 years old which tells a story of surrogacy from a young child's perspective in a practical way that children can understand and grasp. A little girl by the name of Sophia is heartbroken after she discovers all of her crayons are broken. Sophia's friend's share their crayons with her as she experiences seeing her parents choose to give the gift of surrogacy to their friends. Sophia's Broken Crayons is a very easy and understanding way to help explain surrogacy to a young child which include questions such as why can't everyone have a baby? Why would someone choose a surrogate to help grow their family? Why would someone choose to become a surrogate? Follow the story of Sophia as she learns about sharing and helping out friends in need as well as why moms and dads choose surrogates to help grow their families and why surrogates choose to help other families that way.